The smell of redwood giants.
The banquet for the shadows.
Horse and I, we're dancers in the dark.
Came upon the headdress.
It was gilded, dark and golden.
The children sang.
I was so afraid I took it to my head and prayed.
They sang to me, "This is yours to wear. You're the chosen one, there's no turning back."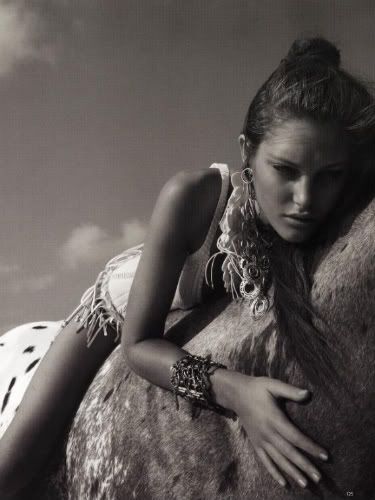 Lyric: Bat for Lashes - Horse And I
Vogue Espana, April 2006. Ph: Nico. Model: Rosie Huntington Whiteley.
Numero 94 Jun/Jul 2008. Ph: Greg Kadel. Model: Vlada Roslyakova.
Vogue UK Jun 2008. Ph: Emma Summerton. Model: Catherine McNeil.
Russh 21. Ph: Derek Henderson. Model: Zippora Seven.
i-D Sept 2008. Ph: Richard Bush. Model: Aline Weber.